Interview: Sheeba Khan
Mount Gallery Reaches Out: How are Artists Around the World Responding to the Coronavirus Pandemic and Social Distancing?
A Series of Interviews.
In PART I of the Series, we 'travel' to Dubai to ask internationally renowned and award-winning painter SHEEBA KHAN to opine on issues surrounding COVID-19 and its impact on the artist.

SHEEBA is an Abstract Expressionist painter from Dubai. Originally from the depths of India's jungles whilst a youth, an experience which she describes as a fairy tale, it was later in life that the artist found her calling to the canvas. Using acrylic as well as oil, Sheeba's works always have a story/message which she articulately shares through her written descriptions and personal narratives accompanying posted images of her works. Her strength shows through her ability to continue to paint through difficult situations and, now, we ask how COVID-19 and the lockdown in Dubai is having an effect on her; how is she using this time of seeming powerless?

Her Response: A lot of time is spent in retrospection. The lockdown has given us a chance to spend more quality time with our loved ones. At a personal level, it has opened up my eyes to new world. The stories of hope, fear, resilience, sadness, triumph of the human spirit, the will to fight COVID-19, stories that keep feeding my imagination. Despite being distanced socially mankind was never this united. People are sending their prayers, sharing anecdotes for 'boosting immunity' and herbal remedies for beating this dreaded virus. I cannot begin to describe how much stimuli I am collecting by just observing the tumultuous changes the world is going through. So as an artist, these experiences and stories are very enriching and enlightening. Yes, I do feel powerless and it encourages me to reach out to a higher power and pray to HIM.

Sheeba expresses her feelings during this time as an artist and the pandemic's impact upon her work: Like the rest of the world, I did fear the dreaded COVID-19 in the beginning. But I realized that the best way to keep it at bay is to follow all the necessary precautions and just stay home and be safe. So I am not afraid anymore. Having the family home does come with a lot of challenges though. Household chores take up a lot of my time. UAE is in total lockdown so getting art supplies was practically impossible. I had to wait for three weeks to finally get some. And since I am someone who has been painting every single day since I started seven years ago, it was very frustrating and depleted me emotionally. I guess not being able to paint was far more stressful then being stuck at home. Give me my paints and canvas and I am good! Like I said earlier, the stories I have heard, give me a lot inspiration. I am an instinctive painter and my work is all about feelings and emotions. So I feel this crisis has enriched me creatively. And now that I have my art supplies, I can't wait to see what stories I will be telling with my new work. I have already started on a new painting, after a break of almost three weeks.

This 'break' to which Sheeba refers produced her most recent works, 'The Age of Courage' and 'Resilience.' Through these paintings, we see the artist sharing her experiences:
SHEEBA HAS EXPLAINED REGARDING "THE AGE OF COURAGE": In these trying times when we are up against an invisible enemy, an enemy we know nothing about. Courage is the only thing that can help us forge ahead. Unlike my other paintings where I use a lot of colours, I stuck to just black (despair) white (hope) and red (courage, passion, zest for life, love). The dominance of red shows courage winning and taking over. The intricate layers symbolize the turmoil we are going through (chaos, madness, fear).
To me, this incredibly vivid, passion-soaked painting is symbolic of these days of the pandemic; I feel represented the health-care workers around the globe who risk their lives each day, whom Sheeba has mentioned as a tribute thereto. As I open parcels and make online requests, I am reminded of the fortitude of the workers who keep on delivering and delivering: Whether mail, food, wine, essentials, these people are also at the front lines, risking their health so that others may remain indoors. The red, the zest for love and life, as Sheeba puts it, is also food: the essentials of hunger and pleasure being satisfied by the fatty marbled steak; white hope in a piece of charcoaled yet rare piece of life's gratification. One can translate this evocative work in so many fashions. I shall not let my imaginary glass of wine runneth over.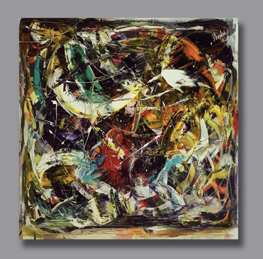 SHEEBA WRITES ABOUT "RESILIENCE": I am back after a hiatus of three weeks! I was absorbing the overwhelming impact of the current crisis. There are stories all around me. We all woke up to a new world. A world that's tirelessly throwing punches at an invisible enemy. Fighting back. We have all been given a chance to be introspective (and retrospective). … This is a celebration of the human spirit and its ability to bounce back. No matter how much we are pushed back or how much our patience is stretched, we will bounce back. We'll be stronger, wiser and more in love with life and all that it offers.
KEEPING IT PERSONAL. Sheeba bares her soul onto each canvas. I asked her to what extent she reveals the stories behind her paintings: My art is purely about my feelings, my experiences and my journey. So I don't hold myself back. Whatever it is that I am feeling finds its way onto the canvas. Art was awoken in me during a very dark period in my life. Art saved me and gave me a new path. A new lease in life. It's like oxygen to me. I paint every day even when I am sick. I remember painting "Breathless" when I was completely bedridden with sever upper respiratory illness. I wanted to see what would come out of my condition. Breathless captured the feeling of constriction and lack of air. That's how much of myself I put into my work. Layers upon layers of fear, anxiety, chaos from those dark days mixed with hope, vibrancy and elation that I feel now.
Sheeba Continues: …[T]he response to my work has been outstanding. People see so many stories in each of my paintings. In fact, many have said that every time they see it with new eyes, they notice something new. It's like the painting keeps evolving magically. As an artist, I feel very gratified to hear such glowing tributes.

PERSONALLY, I am one of those people to whom Sheeba refers. One piece I own by Sheeba is entitled 'Wandering in Wonderland.' This particular painting really supports me through these days of social distancing.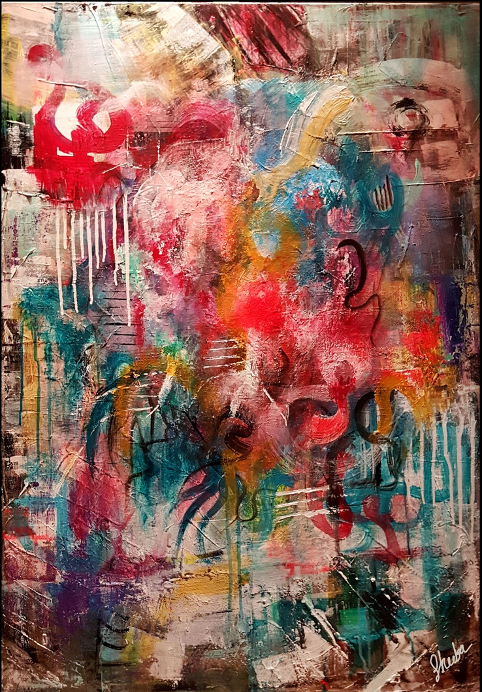 The 'Wandering in Wonderland' creative experience as described by the artist: "I felt like Alice, running wild and free. Finding magic. Wandering. Exploring every nook and cranny. I have tried to recreate my vision for all of you." This is the way I do feel about the work; each nook and cranny of this colourful and textured piece provides me with a new rabbit hole into which I can jump to break away from reality's troubles. I wander through each layer of colour differently, finding a new escape and adventure with each viewing of the work. Within the painting and its seeming chaos, I feel a comfort that aids my sanity through a time that would otherwise thrive on the banal.

Thus, I asked Sheeba: what do you think about the virus' effect on the human and its needs for art? Her reply: The virus has had a huge impact on humans. It will surely change the way we see life. It's like a scene from a post-apocalypse movie where you wake up to a new world. Everything that you took for granted is now precious. We are now living in a world where a hug that once gladdened the heart can now kill you. You can't shake hands. It will be tough to readjust to normal life once the world heals. I do believe that the virus has made more and more people more sensitive and receptive to emotions and feelings so I am hoping that a larger section of the society will now see art with new eyes and connect with it on emotional level. I feel the lockdowns have 'sanitized' us from the inside and created a lot of introspective awareness which might create an appreciation or understanding of meaningful, deep art.

To me, one of Sheeba's deepest pieces is ironically entitled 'Devoid.' Sheeba describes working on it as an 'ethereal,' 'other worldly' creative experience. Sheeba is usually known for the colourful layers of paint in her works that illuminate subject-matters and vibrantly expound upon her emotions or state of mind. 'Devoid' was quite a different experience for her, for when she started the painting, "I went into a state of trance. It was almost as if something inside of me took over." Sheeba painted this work in one go: "When I stepped back, that trance was broken. I looked at it and knew that this was it…I was shaky and sweaty and had to lay down for a bit. … Invariably, I called it devoid."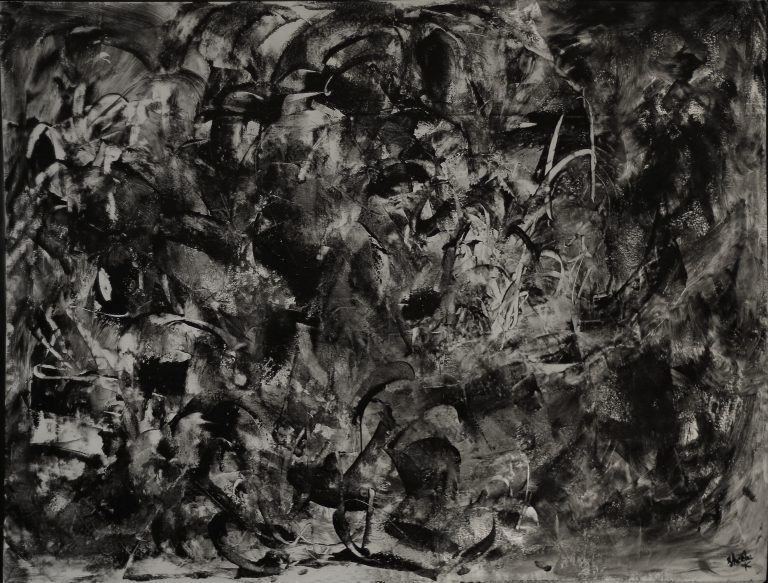 'Devoid' is not done justice via digital rendering. Whilst one can still get lost in the trance of the tumultuous cascade of shadows and torrential sweat behind the layers of black and white paint through the image, it is quite the piece I'd like to study in person. I would relish the time to investigate each detail of Ms. Khan's transfixed experience. This is certainly a piece which I would call the deep art to which Sheeba refers above.

Now it is time to speak of SALES. I asked Sheeba what she thought of the pandemic's effect on the art market and the digital, online world of art sales: Since I had been selling a lot mainly in the US and Europe, the havoc wreaked by COVID-19 in these two markets has totally set me back. After a dream start to 2020 when I sold 6 paintings in January alone, it's come to a grinding halt. Art sales have stopped for me completely. Sadly, the digital art markets aren't any different. The wealthy will continue to buy masterpieces by famous dead artists at a lower price (sadly that won't stop). But the living artists who relied on their own social media platforms and online galleries are doomed. Potential art buyers are now holding on to their money and buying art is perhaps that last thing on their minds. Art, much like every other business in the world, is badly hit and things will only get better when the financial situation improves. The forecasts look very ominous. 

And thus, a forecast of the ominous can leave artists restless in this time of solitude due to social distancing and lockdowns. Sheeba has painted 'Restlessness' in response. The artist has said that 'Restlessness' is "both good and bad." The piece, keeping you out of your comfort zone, and "…tells you 'this is not your best. you can do better,'" continuing to push you. "[I]t's bad because it keeps you awake. It's the mother of self-doubt. It causes anguish and anxiety." However, in this time of uncertainty, the artist provides advice with the painting: "The best thing to do is to keep the good parts and seek respite from the bits that cause you pain."
AND TO THE FUTURE! I asked Sheeba if/how children's art experience at time of development might be effected during this time of self-distancing, as most museums, galleries and people are on lock-down?  Yes, they would be, and I feel sorry for them. Art is an essential part of growing up. It helps in shaping perception. Children are way more imaginative than adults. In fact, their imagination is at its peak. Adulthood's shackles curb creativity. When we grow up we become logical and question everything. But kids can see so much more in everything. And seeing art is fodder for imagination. So it's sad that they cannot visit museums and galleries and find what fuels their imagination.

Sheeba has shared a photograph of Dubai on lockdown. Proud of her country's handling the of the situation, she comments that: This what the road to safety and recovery looks like. This is not a curfew. It's the solidarity of the residents/citizens of United Arab Emirates who are following the directives of our amazing rulers, the front-line teams of law enforcement, healthcare and all other divisions of our outstanding government. U.A.E. has proven itself yet again as a nation that LOVES its people. Proud to call it home. … I salute the doctors, the nurses and everyone out there who are relentlessly risking their lives and working round the clock to save lives. The least we can do is stay at home and not burden them. PLEASE STAY HOME.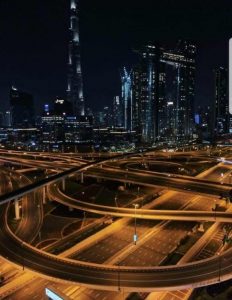 AND SO, while the city of Dubai remains quiet on lockdown, Sheeba Khan continues to make visual music in her studio, her dynamism for our eyes to feast upon in the future. What world of her soul and imagination will she allow us to be a part of next?